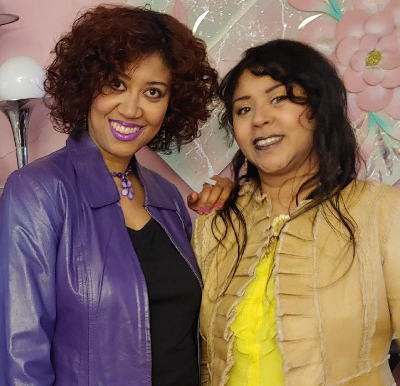 AngieShel Designs is a combination of our nicknames, Angie and Shel, short for Angela and Shelley. We are sisters, and we both always loved fashion, colors, art, and finding ways to be creative. Eventually, we began to make jewelry for ourselves because we were having difficulty finding unique, colorful, quality pieces at affordable prices, as others may have experienced. Once we started making jewelry for family and friends as gifts, we received more and more requests for custom-made designs, which led to encouragement to start a jewelry business. Therefore, we started off with private showings, home shows, company shows and street fairs. Having a website was the next logical path for AngieShel Designs.

We thank all of you who supported us and gave us so much positive feedback when we were in the "baby" stages of our business. Most of all, we thank Jehovah God for giving us this enjoyable gift of creating jewelry! Welcome to our website, and thank you for your business! Enjoy shopping at our online "store!"
View photos of us (Angela & Shelley):
Photo of us and our beloved mom
Find out more about us in our Interview (released on April 28, 2021) on EntrepreneuHerWay's motivational blog series about women in business by clicking the following link: Angela and Shelley's Interview 2021
Listen to our podcast interview on Boss, Please Podcast Show (Episode 23 - AngieShel Designs) which aired on iTunes, YouTube, Spotify and iHeartRadio on March 7, 2018.